junetsanders.com/teaching/intro_to_digital_tools/portfolio_project



︎︎︎︎


Online Portfolio
DUE DATE: Dec 10th

DESCRIPTION:

For your final project, you will create an online portfolio that includes all the assignments you have done for this class, as well as any other relevant work. You will apply your understanding of design and composition, information layout, and web culture. If you are a DTC major, this portfolio is required for your major and will be added to as you go through the program. Please refer to the DTC Portfolio guidelines here. If you are not a DTC major, think of this website as a professional portfolio that you can use as you advance in your professional career.

We will use cargo collective to make our portfolios this semester. We have been given a promo code that will grant everyone a free one year subscription. If you want to use a different website builder though, you are welcome to as long as you check with me about it.




Project Requirements:

Your portfolio must include all major assignments made during the semester. You are also welcome to include past work or work from other DTC classes.

The portfolio must also include a Resume or CV, your contact info, a bio, and a link to your design blog.

Your portfolio is clean, professional, and considered. Please refer to the principles of design and composition and the examples given. However, how you create your portfolio is ultimately up to you.

Considerations of Color, Design, Typography, etc.


Cargo Collective Link & Promo Code:
https://cargo.site/
Promo Code: 32cf5f81


ADDITIONAL LINKS:

Examples/Inspiration:
https://www.designspiration.com/search/saves/?q=website&qa=typed&term_meta%5B%5D=website%7Ctyped%7Cword%7C0
https://cargo.site/In-Use
How to create an online design portfolio
https://www.wix.com/blog/creative/2018/04/how-to-make-online-design-portfolio-guide
Techniques/topics this project covers:
Basics of website building and domains

graphic and information layout

Online presence and marketing

working with templates and/or html

Web browsers, URLs, domain names

Saving for the web: web resolution and relevant file formats

Usability and accessibility

Design elements and principles such as alignment, contrast, color, hierarchy, typography/fonts

DELIVERABLES:
(submit via blackboard)

~ A link to your finished portfolio, which includes all the project requirements.

~ A one paragraph explanation of your work, process, and what you referenced or took inspiration from.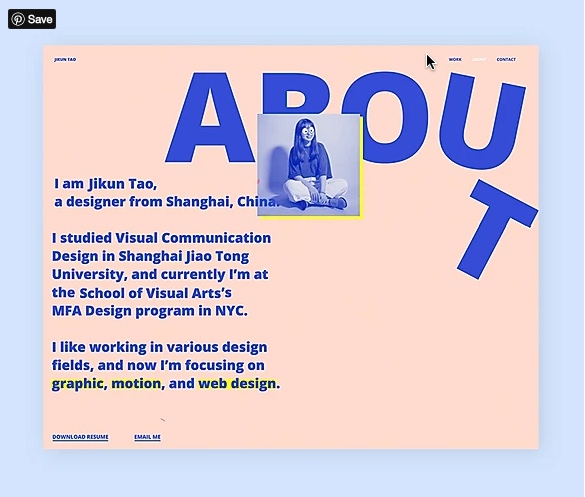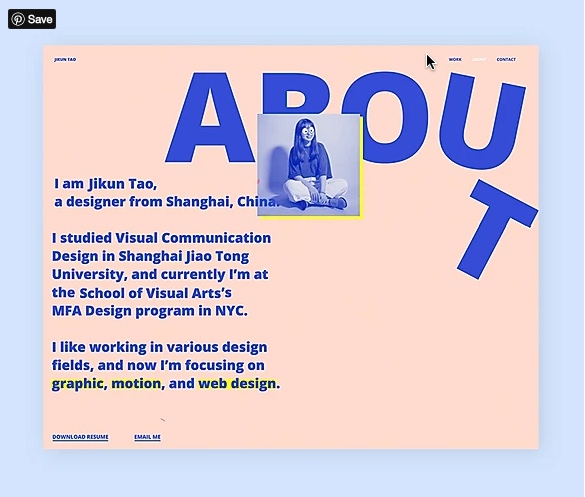 SYLLABUS | SCHEDULE | READINGS | BLOG | FINAL PORTFOLIO | TUTORIALS | RESOURCES |

ASSIGNMENTS

: 1 // 2 // 3 // 4 // 5 // 6